A website is the first step of the online visibility that's why every artist, musician, band or label needs one. Social media profiles of the musicians won't be enough if you want to have a description of your overall experience. A website enables you to transmit your message in the most convenient way . In this article, we aim to reflect why you need to start your own website.
A website is a great engagement tool
First and foremost, a website enables you to connect and interact with your fans, so that they can easily find your music and easily buy your music. In addition to this, it produces a platform whereby events can be announced, people can interact with each other, and new fans can be able to find you. With these great features, the fan base will eventually increase, and thus form a great way to earn resources through your music online. Furthermore, technology has proven to be a vital component in all music industries these days. People are heavily relying on sites to aid in their businesses. It would be a bad idea if the musicians today miss out on what technology has to offer. Social media profiles are nice but you need to direct your fans to your website to make them subscribe to your mailing list and send them newsletters to ask them to reward you for your music. In short, a website is the first door to outside world for a musician, band or a label.
It shows you are serious about what you do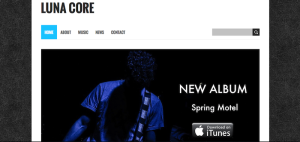 It is widely known that a website is normally branded with a domain name, and personalized email. It is important for musicians to appear focused and serious. This way one can get to contact important people without being portrayed as a fake or worse yet; unserious. A website will have personalized information, pictures and video available to everyone out there therefore proving that the musician is absolutely passionate about his/her music and that he/she is serious.  In addition to this, domain names provide security to identity fraud since they cannot be copied as opposed to user pages and accounts. Also, it allows you to have an email address with your music project or band name. Artglider offers free website templates, unlimited pages, unlimited pictures, unlimited traffic and bandwidth for musicians and bands who wants to start their own websites.
Your website is your story, your playground
Another importance of owning a website is the fact that the musician is able to customize the page's design and therefore control what the fans see. This is opposed to simple pages from social networking sites which are all similar in design and user experience. With a website, a musician can communicate his/her feelings to his fans by way of customizing the design of the site. This way, every user gets an idea of the musician's personality or a band's character. In fact, websites can also have blogs which enable the fans to get immersed in the experiences of the musician. This therefore means that there will never be any unwanted ads, there will never be any interferences when your fans view the website.
Today's world simply proves that there is no excuse not to have a website. Websites have become the new way of meeting people, interact with them, let them buy from you and most importantly, listen to music. Websites connects people with their wants and needs. So give your fans what they need and start your website today.
Quick Links:
Artglider's Web Hosting Service – The best way to start your own music website