Creating email accounts for your band, music project or label is super easy with Artglider. You can create new email accounts for the domains hosted in this account (like info@yourmusicsite.com) and manage the settings of your existing accounts.
Also, you can set up email forwarding, activate email filters, create auto-reply messages and enable anti-spam protection.
What is better is to create an email account takes less than 20 seconds with Artglider.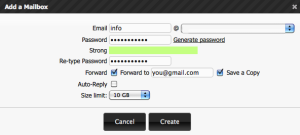 Click "Email" tab in your Hosting Control Panel. Click "Create a New Email Account" in the page and a pop-up window will appear. Just name the mail address, set up a password, if you like type a forwarding email address if you want to reply your email from another email client like Gmail, Yahoo and Hotmail. Click "Create" and it's done.
Here you can find detailed information about the handy Email Manager.
After creating your email you can reply to them inside your Control Panel or you can connect them to a mail clients like Thunderbird, Mac Mail and Windows Live Mail. What is more better is you can direct them to popular mail service like Gmail, Yahoo or Outlook.
Quick Links:
Artglider's Web Hosting Service – The best way to run your music website