Artglider Mail Engineer also allows you to create a newsletter by uploading an HTML file you have already prepared outside.
1 – Click the Newsletters tab on the left hand side of the Control Panel.
2 – Either click the ADD A NEW NEWSLETTER link on the left of the site, or click the big "Add a new newsletter" button on the top right.
3 – Click on the "Advanced" tab at the top of the page, and then click "Upload a HTML file."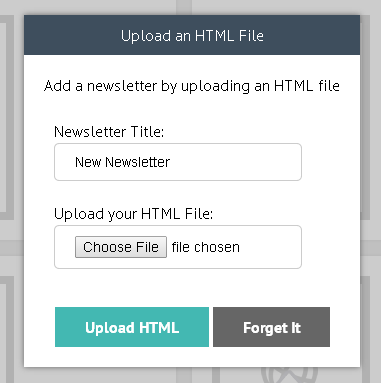 4- A popup will appear asking you to give your newsletter a friendly name, along with a "Choose File" button.
Click the "Choose File" button and a file picker will appear where you can find your HTML file on your local hard drive. Select your local HTML file.
5- Click the UPLOAD HTML button and your HTML will import and you will design newsletters.
6- You will be taken to the HTML Editor with your uploaded HTML loaded up, where you can make any last minute changes to your newsletter.